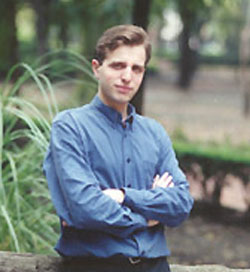 Viacheslav Dinerchtein
Violist
Born in Belarus, Viacheslav Dinerchtein immigrated to Mexico in 1991, where he began an array of different musical activities. He has frequently appeared as a soloist with orchestra, as well as in recitals throughout Mexico, United States and Canada, having performed at the Kennedy Center (Washington, DC) and Palacio de Bellas Artes (Mexico City) among other stages. Heralded as an "exceptional musician" (The News) and a "gifted communicator" (El Nacional), Viacheslav Dinerchtein is a frequent guest soloist and teacher at such music festivals as Bach International Festival (Peru), Colloquium Music Festival (Zacatecas, Mexico), Spoleto Music Festival (Italy), Camarissima Music Festival (Mexico City), Niagara Music Festival (Canada) among others, and was a guest soloist at the U.S. State Department (Washington DC) in 2001. Since 2003, Viacheslav Dinerchtein records exclusively for Urtext Digital Classics worlwide distribution, which will feature a set of compact discs of music written for viola by Latin-American and Spanish composers, as well as duets for violin and viola with Prof. Victor Danchenko, and 44 Duets for Two Violas by Bela Bartok with legendary violist Joseph de Pasquale.
As a chamber musician, Viacheslav Dinerchtein has appeared extensively in concerts, TV / Radio broadcasts and music festivals throughout Europe and Americas and has recorded two compact discs as a member of Camerton String Quartet.
In addition to his performing engagements, Viacheslav Dinerchtein has recently undertaken the task of transcribing Ysaye's Solo Violin Sonatas to viola - to be published by Ovation Press.
For many years, Viacheslav Dinerchtein studied with his father, Boris Dinerchtein, receiving with honors Licenciate Diploma from the Associated Board of Royal Schools of Music (London, England). After completing Master of Music degree and a Graduate Performance Diploma in Chamber Music at Peabody Conservatory of Music (Baltimore, MD) with Joseph de Pasquale, Viacheslav Dinerchtein joins Northwestern University (Evanston, IL) Doctorate of Musical Arts program, as a teaching assistant of Prof. Roland Vamos.
In his free time, Viacheslav Dinerchtein enjoys company of good friends, reading, listening to jazz, painting, smoking cigars, playing chess, and is a member of American Mensa the top 2% IQ society.